I'm lacing up again.
I have been wanting to do another running event for the longest time. The last time I did a running event was in 2011 when I did the
Scotiabank Waterfront 5k
. At the time, I raised $ 300 for Wellspring, a supportive community for people impacted by cancer. The run was fun and manageable. The event was also to do my
Funky Sexy Manifesto #25 Raise Money for Cancer
. The event was a lot of fun as well.
Also, I had run a half marathon in 2009. So my goal essentially this year was (and is) to run another half marathon. Given that I have trained for one in the past, I know how important it is to be prepared to run a half marathon and that training is essential. Rushing into training, increasing one's pace too quickly, and not taking a lot of things into account can cause injuries. Training for my half marathon in 2009 was a stop and re-start affair due to the fact that I kept getting injuries like:
black toe,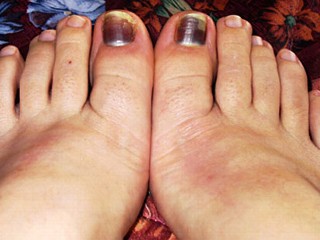 shin splints,
and
hip bursitis
.
None of those injuries was a walk in the park. As a result, I am in no rush to run the half marathon again. I know it's not the kind of event I can just start training for whenever the desire hits me. My experiences have been very painful lessons that have caused me to adopt certain practices which I will share in a future post. On top of it, I was in a car accident in February 2013, so stressing my body with hours of running each week for the half marathon I set my eyes on in May was not in the question. If I did the training to fast, I would have felt it.
So instead, I changed my goal. I will run a series of shorter events in preparation for the half marathon this fall. After my accident, I stopped running for a month and I was concerned that I would not have enough training to run the 5km event in May either. But when one door closes, another one opens and for me this came in the result of an event of
The Toronto Thyroid Cancer Awareness Run
on Saturday, June 8, 2013 in High Park. Click
here
if you would like to find out more about Thyroid Cancer and the organizers
Thyroid Cancer Canada
.
I
will
be running 10 kilometres in this event and I am so excited and pumped. I have re-started my training in April and I am well on my way of meeting my running goal.
Please support me in this endeavour by either joining the run or donating today.