Over the last two weeks, I feel like I have remained relatively quiet about my cancer survivorship. As I mentioned in
Cancer Survivor Playlist #1
, I needed some time to reflect on this important period of my journey. I still continue to reflect... I do continue to write and post about other topics however I needed some time to reflect specifically on being a cancer survivor is quite different. I think that the songs on my Cancer Survivor Playlist #1 express some of my feelings best. Gratitude, pride, relief, blessed, strong, bold, anxious, excited, scared... I felt these things and more.
My therapist asked me what is it feel like to be a cancer survivor?
I feel like I have been given a second chance at life.
Although I know that papillary thyroid cancer has a very high survival rate, I still feel greatly affected by this life experience. I was always aware of my own mortality, or so I thought, and now I'm even more aware and greatly appreciative of each day and every one and every experience. I have a new sense that there is a brevity to life and that each moment should not be taken for granted. I feel a sense of urgency to accomplish my dreams and not to put things off until tomorrow. I feel like I faced death, or at least had a touch of it, which caused me to love my life even more.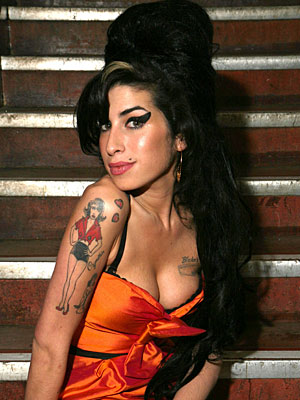 On Saturday, July 23rd, when I received the news that R&B singer Amy Winehouse died, I thought it was sad. However the very next day, again after watching clips of her last concert in Sarajevo, I became quite upset. This twenty-seven year young woman was visibly dying and suffering from her illnesses and addictions and not getting the help she needed. I had a hard time watching it. I felt disappointed and disgusted that somehow I became a spectator to her deterioration. I wondered why no one intervened or stopped the concert. I feel she may have been alive if she got the help she needed.
On Tuesday, July 19th, I learned that I am cancer-free.
I am alive because I received the help I needed.
From spiritual help and guidance to prayers and faith, from cancer support centres, workshops, and classes, from my physicians, counsellors, and surgeons, from family, friends, and strangers,...
I am truly blessed.
I had a community of interventions at various levels. I also love and value myself enough to seek this help.
As a result, I do not want to waste any time.
It is so important to me that I truly live life and pursue my dreams.
The Country song by Tim McGraw, L
ive Like You Were Dying
, comes close to summing up my feelings. Changed is my workaholic approach to tackling obstacles and goals. That workaholism does not help me. However, I will use my driven, tenacious, ambitious, and passionate nature to nurture myself. I have learned the importance of being kind to myself, rest, relaxation, restoration, and reflection. Achieving goals means nothing, if I do not care for the most important person-- and that's me. When I love me and care for me best, I can then help others better.
Like some thyroid cancer and other survivors, I felt some guilt at different times for having a cancer experience that did not involve such challenges as going through bouts of chemotherapy, mastectomy (removal of breast), hairloss, infertility, paralysis, extended hospitalizations, expensive and complex surgeries, life-saving treatments that could also kill, excruciating pain, and other side effects. However I continue to meet cancer survivors and read books which teach me a lot about these types of experiences. For example,
Crazy Sexy Cancer
author Kris Carr has been diagnosed with a stage 4 inoperable cancer but did not have to undergo surgery, chemotherapy or radiation. While Jim Bedard, author of
Lotus in the Fire: The healing power of Zen
, went through a very risky and lengthy treatment program which involved pain, transfusions, bone marrow transplant, numerous radiation and chemotherapy programs, and surgeries. In
Everything Changes
and other books, I learn that some cancer patients have recurrences or even die while in treatment.
Despite this, I have decided not to rank cancers.
There are hundreds of cancers in the world so of course our experiences and treatments with it will all be different.
The impact that this disease can have on one's life is devastating. I also become very frustrated when mostly older people have said to me that you got the "good cancer" or the "easy one" or "you're young". Isn't that terrible? These are the types of comments which make it harder for thyroid cancer survivors to speak up about the life-changing impact that this disease can have on their lives. I have received e-mails from readers and met thyroid cancer patients who are SCARED, TERRIFIED about what is to come. Thyroid cancers can have their own complications too. Many survivors come from cultures or families of origin in which it is not encouraged to discuss cancer or sickness.
Cancer is a beast! And I wish very much to end cancer so no one else would have to suffer in these ways. But cancer also can be a teacher if you let it.
Kris Carr calls cancer her guru. Sickness, death, and suffering are all part of the human existence. It is inevitable. Having had cancer is kind of like getting a dose of all these things. So be it. Axé! Now God let me learn from this experience.
I decided to create a list (I love lists) and I changed the name for copyright purposes, calling it Funky Sexy Manifesto or my Survivor Resolutions. I was inspired by a young woman survivor I met (she was my roommate) who created a blog called
100 Cancer Resolutions
. It is her "record of my commitment to doing everything I took for granted before my diagnosis". She reflects on each one. I loved this idea so much that I created my own list. (So far I have about 31 resolutions.)
Some cancer survivors and patients express that they want their life to return to normal after treatment. Some survivors do not change their routines, work through diagnosis by choice or by obligation, and look at cancer as a "blip" in their plans. How each survivor looks at their experience is a totally individual thing and there is no right or wrong way.
I don't want a normal or "my normal" life. I seek a "new normal".
My life will never be the same thanks to this experience with cancer and I wish to live better for it.
So I am embarking on a life as a cancer survivor or a Thry'vor.
Carpe diem!!!